DM60-48SXX
DM standard series
Small size DC/DC switching power supply.
Low ripple and noise.
High efficiency and reliability.
Wide input voltage rang.
Good at EMC.
Used in industrial,office and civil industries.
3 ans d'assurance qualité.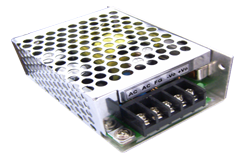 Cliquez sur le numéro de série pour voir plus de modules
Les paramètres de série suivants sont fournis à titre indicatif uniquement. Les paramètres techniques détaillés font l'objet de spécifications techniques.
| | | | | | | | | |
| --- | --- | --- | --- | --- | --- | --- | --- | --- |
| Titre de la série | Puissance(W) | Vin(VAC) | Vout(VDC) | Non de sortie | Isolement (VAC) | Forfait | Dimensions(mm) | PDF |
| DM60-48SXX | 60 | 36-75 | 5-24 | 1 | 1000 | Metal mesh | 86*59*35 | |
| DM60-110SXX | 60 | 65-150 | 5-24 | 1 | 1000 | Metal mesh | 86*59*35 | |
| Série DM(60W) | | | | | | | | |
les informations pertinentes