HP10-SXX
HP high reliability series has important applications in heavy industry and power industry. 
  Grande fiabilité.                                                                                           
Use in AC or DC.
Basse consommation énergétique.
Isolement de sécurité.
The anti-surge performance is superior.
3 ans d'assurance qualité.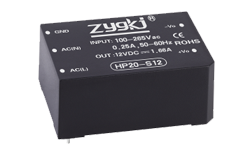 Cliquez sur le numéro de série pour voir plus de modules
Les paramètres de série suivants sont fournis à titre indicatif uniquement. Les paramètres techniques détaillés font l'objet de spécifications techniques.
| | | | | | | | | |
| --- | --- | --- | --- | --- | --- | --- | --- | --- |
| Titre de la série | Puissance(W) | Vin(VAC) | Vout(VDC) | Non de sortie | Isolement (VAC) | Forfait | Dimensions(mm) | PDF |
| HP10-SXX | 10 | 85~264 | 3.3-24 | 1 | 3000 | Module | 48.5*36*20.5 | |
| HP20-SXX | 20 | 85~264 | 3.3-24 | 1 | 3000 | Module | 55*45*21 | |
| HP25-SXX | 25 | 85~264 | 3.3-24 | 1 | 3000 | Module | 62*45*22.5 | |
| HP30-SXX | 30 | 85~264 | 5-48 | 1 | 3000 | Module | 70*48*23.5 | |
| HP40-SXX | 40 | 85~264 | 5-48 | 1 | 3000 | Module | 70*48*23.5 | |
| HP50-SXX | 50 | 85~264 | 12-48 | 1 | 3000 | Module | 70*48*23.5 | |
| HP Series(10-50W) | | | | | | | | |
les informations pertinentes