HP10-SXX
HP high reliability series has important applications in heavy industry and power industry. 
  Alta affidabilità.                                                                                           
Use in AC or DC.
Basso consumo energetico.
Isolamento di sicurezza.
The anti-surge performance is superior.
3 anni di garanzia della qualità.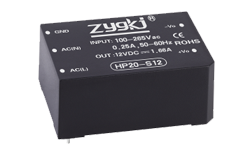 Fare clic sul numero di serie per visualizzare più moduli
I seguenti parametri della serie sono solo di riferimento. I parametri tecnici dettagliati sono soggetti a specifiche tecniche.
| | | | | | | | | |
| --- | --- | --- | --- | --- | --- | --- | --- | --- |
| Titolo della serie | Potenza (W) | Vin(VAC) | Vout (VCC) | No di uscita | Isolamento (VAC) | Pacchetto | Dimensione (millimetro) | PDF |
| HP10-SXX | 10 | 85~264 | 3.3-24 | 1 | 3000 | Modulo | 48.5*36*20.5 | |
| HP20-SXX | 20 | 85~264 | 3.3-24 | 1 | 3000 | Modulo | 55*45*21 | |
| HP25-SXX | 25 | 85~264 | 3.3-24 | 1 | 3000 | Modulo | 62*45*22.5 | |
| HP30-SXX | 30 | 85~264 | 5-48 | 1 | 3000 | Modulo | 70*48*23.5 | |
| HP40-SXX | 40 | 85~264 | 5-48 | 1 | 3000 | Modulo | 70*48*23.5 | |
| HP50-SXX | 50 | 85~264 | 12-48 | 1 | 3000 | Modulo | 70*48*23.5 | |
| Serie HP (10-50 W) | | | | | | | | |