HP10-SXX
HP high reliability series has important applications in heavy industry and power industry. 
  Alta fiabilidad.                                                                                           
Use in AC or DC.
Bajo consumo de energía.
Aislamiento de seguridad.
The anti-surge performance is superior.
3 años de garantía de calidad.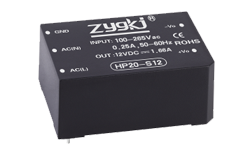 Haga clic en el número de serie para ver más módulos
Los siguientes parámetros de la serie son solo para referencia. Los parámetros técnicos detallados están sujetos a las especificaciones técnicas.
| | | | | | | | | |
| --- | --- | --- | --- | --- | --- | --- | --- | --- |
| Título de la serie | Potencia (W) | Vin (VAC) | V de salida (VCC) | Nº de salida | Aislamiento (VAC) | Paquete | Dimensión (mm) | PDF |
| HP10-SXX | 10 | 85~264 | 3.3-24 | 1 | 3000 | Módulo | 48.5*36*20.5 | |
| HP20-SXX | 20 | 85~264 | 3.3-24 | 1 | 3000 | Módulo | 55*45*21 | |
| HP25-SXX | 25 | 85~264 | 3.3-24 | 1 | 3000 | Módulo | 62*45*22.5 | |
| HP30-SXX | 30 | 85~264 | 5-48 | 1 | 3000 | Módulo | 70*48*23.5 | |
| HP40-SXX | 40 | 85~264 | 5-48 | 1 | 3000 | Módulo | 70*48*23.5 | |
| HP50-SXX | 50 | 85~264 | 12-48 | 1 | 3000 | Módulo | 70*48*23.5 | |
| Serie HP (10-50 W) | | | | | | | | |