DM60-48SXX
DM standard series
Small size DC/DC switching power supply.
Low ripple and noise.
High efficiency and reliability.
Wide input voltage rang.
God til EMC.
Used in industrial,office and civil industries.
3 års kvalitetssikring.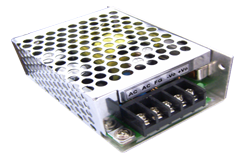 Klik på serienummeret for at se flere moduler
Følgende serieparametre er kun til reference. Detaljerede tekniske parametre er underlagt tekniske specifikationer.
| | | | | | | | | |
| --- | --- | --- | --- | --- | --- | --- | --- | --- |
| Seriens titel | Effekt (W) | Vin(VAC) | Vout (VDC) | Antal output | Isolation (VAC) | Pakke | Dimension (mm) | PDF |
| DM60-48SXX | 60 | 36-75 | 5-24 | 1 | 1000 | Metal mesh | 86*59*35 | |
| DM60-110SXX | 60 | 65-150 | 5-24 | 1 | 1000 | Metal mesh | 86*59*35 | |
| DM-serien (60W) | | | | | | | | |