HP10-SXX
HP high reliability series has important applications in heavy industry and power industry. 
  Høj pålidelighed.                                                                                           
Use in AC or DC.
Lavt strømforbrug.
Sikkerhedsisolering.
The anti-surge performance is superior.
3 års kvalitetssikring.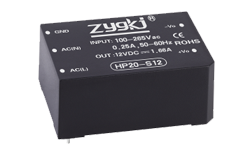 Klik på serienummeret for at se flere moduler
Følgende serieparametre er kun til reference. Detaljerede tekniske parametre er underlagt tekniske specifikationer.
| | | | | | | | | |
| --- | --- | --- | --- | --- | --- | --- | --- | --- |
| Seriens titel | Effekt (W) | Vin(VAC) | Vout (VDC) | Antal output | Isolation (VAC) | Pakke | Dimension (mm) | PDF |
| HP10-SXX | 10 | 85~264 | 3.3-24 | 1 | 3000 | modul | 48.5*36*20.5 | |
| HP20-SXX | 20 | 85~264 | 3.3-24 | 1 | 3000 | modul | 55*45*21 | |
| HP25-SXX | 25 | 85~264 | 3.3-24 | 1 | 3000 | modul | 62*45*22.5 | |
| HP30-SXX | 30 | 85~264 | 5-48 | 1 | 3000 | modul | 70*48*23.5 | |
| HP40-SXX | 40 | 85~264 | 5-48 | 1 | 3000 | modul | 70*48*23.5 | |
| HP50-SXX | 50 | 85~264 | 12-48 | 1 | 3000 | modul | 70*48*23.5 | |
| HP-serien (10-50W) | | | | | | | | |